Oxygen-Pro Kit Regular Glow/Grande Adore
Oxygen-Pro Kit 1-Regular Glow 1-Grande Adore.  This kit comes with one dispenser, one Glow regular cartridge and one Adore grande cartridge cartridge
Glow fragrance is Juicy black cherries, with a hint of almond, plum, vanilla and cinnamon spice.
Adore fragrance is a sophisticated fragrance that combines fresh apple notes with amber and spices. .
Oxygen-Pro is the perfect odor control system for any establishment as the user can program the dispenser to work for 30, 60 or 90 days, and can select different fragrance intensity levels with the flexibility of two different cartridge sizes to choose from. Regular and Grande.
Description
Oxy-Gen Powered Air Freshness systems out perform all other air care systems. The fragrance from metered aerosol systems is initially strong but fades quickly between each spray. Fragrance from gels and liquid products evaporate quickly because they are designed to be open to the environment. The performance of passive systems that rely on gravity to disperse fragrance, and other active continuous fragrancing systems, depends largely on the environmental conditions and is not guaranteed to work every time, all the time.
With Oxy-Gen Powered technology, the fragrance intensity is consistent and continuous throughout the cartridge life.
Dispenser…and two cartridges
Economical
The Regular cartridge works for 30 days and is the ideal choice to replace aerosols, gels, sprays or other passive systems. The cartridge contains 20 ml of pure fragrance oil which amounts to about 4 times more fragrance oil than a standard metered aerosol can.
Lowest Cost-in-use
When using the Grande cartridge, the dispenser can be programmed to work for 30 days, 60 days or 90 days. The cartridge contains 35ml of pure fragrance oil, that is approximately 7 times more fragrance oil than a standard metered aerosol can. The fragrance intensity can be changed to a strong (30 days), normal (60 days) or (90 days) mild scent.
Regular Glow and Grande Adore Fragrance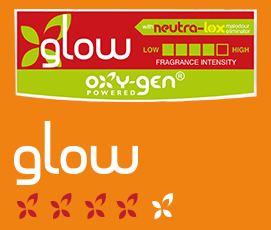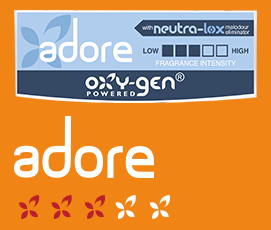 Additional information
| | |
| --- | --- |
| Weight | 2.5 lbs |
| Dimensions | 10.5 × 7.5 × 5 in |
| EACH | |
Our exceptional customer service and quality products are the reason our clients stay!
A-1 Supply Company has been offering janitorial, environmental and industrial supplies for almost 30 years to commercial businesses, small and large. Clients such as the US Army and Environmental Protection Agency are a great testimony to our services. No organization is too big or too small to take advantage of our phenomenal products.